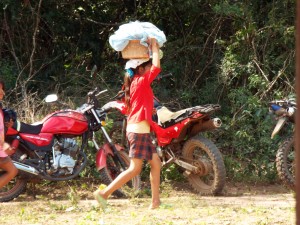 In the Lomerio region of Bolivia, life is hard. Especially for women.  There are no washing machines, dishwashers, microwaves, or refrigerators.  Most cooking is done over an open fire.  Water often has to be carried from a stream.  Meat is not purchased from a supermarket in neat, cellophane wrap; it is hunted, skinned, cut up, and cooked.  Vegetables don't come in cans or frozen; they are home grown, if any can be found.  Just surviving is difficult; extra money for "fun things" like a woman's conference takes planning, hard work, and skill.
That's why what the Christian women did in October 2016 is so remarkable.  They worked to pay their own way to the women's conference by selling eggs, baked goods, old clothes, and woven products they made on the looms in their adobe houses.  Not only did they pay their own way:  each church invited two ladies from their community to attend the conference as their guests.  The Christian women paid the registration for the unchurched women to attend.
Now that's love…shown by action!
"But now abide faith, hope and love, these three; and the greatest of these is love."  (I Cor. 13:13).